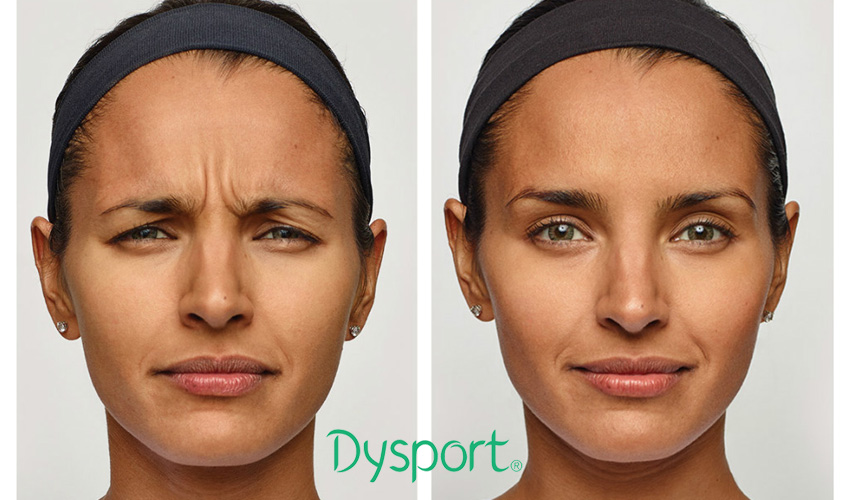 What is Dysport?
Wrinkles aren't your style and the "frozen look" isn't either. For adults who want a natural look, there's Dysport, a prescription injection proven to help smooth the appearance of moderate to severe frown lines between the eyebrows without changing the look or movement of the rest of your face. Untreated muscles still work normally, so you can continue to express feelings naturally. It's the lines that are minimized, not your expressions.
And because Dysport delivers the natural-looking results people want, 97% of users say they'd do it again. Additionally, Dysport is approved in 69 countries and has 25 years of clinical experience worldwide. Find out more about Dysport below, including how it works and what you need to know before starting treatment.
How does Dysport work?
Dysport treats moderate to severe frown lines between the eyebrows by reducing specific muscle activity. Wrinkles are caused by repeated movements and muscle contractions, which means they can even develop in younger adults. One injection into each of 5 points between and above the eyebrows temporarily prevents muscle contractions that cause frown lines, leaving the rest of your face to move naturally. In other words, no frozen look, just natural-looking results. You can control your look instead of your look controlling you.
How long does Dysport last?
Forget frown lines between the eyebrows for up to 4 months! You've got better things to do than think about what your frown lines look like. The majority of users‖ see improvement in just 2–3 days after treatment. In just one 10 to 20-minute treatment, Dysport may help improve the look of your frown lines between the eyebrows for up to 4 months. Results of repeat treatments may be comparable to your first use. Another plus? There is minimal downtime after your treatment, which means you can get back to your day faster.

Nothing ages the face more than sunken, dark eyes, and deep wrinkles. Years of sun exposure, dramatic weight loss, genetics, and the normal aging process can result in a depletion of fat tissue and the loss of skin elasticity. Restylane is a dermal filler, designed to rejuvenate the appearance by replacing lost facial volume, smoothing facial lines, and easing wrinkles. Comprised of Hyaluronic Acid, a naturally occurring substance, Restylane restores a healthy fullness to the facial features and skin by binding itself to water molecules within the body. Hyaluronic Acid goes one step further to achieve great skin as well. It encourages the natural production of Collagen, which provides a continued improvement to the features.
What Are The Benefits?
Restylane treatments are performed in the office, taking less than an hour to complete. Although Restylane injections are not painful, a local anesthesia will be first administered, to maximize patient comfort. Using a very small needle, Restylane is then injected into predetermined areas of the face.
There is no downtime required after a Restylane treatment. Initially, patients may experience mild swelling and redness, although these will resolve quickly. Bruising at the injection site is not unusual. This can take up to a week to fade. Results from a Restylane treatment will be immediately evident; these can last from six to nine months, or longer. After this time, patients will need to schedule a repeat treatment.
Restylane will remain soft and malleable under the skin for up to 72 hours. It is vital that patients remember not to rub vigorously or manipulate the treatment area for the first few days, so as not to displace the filler.
Am I a good candidate for Restylane?
Anyone looking for a noninvasive treatment to correct deep facial crevices, wrinkles, and facial scars that result from acne or trauma, or who want to add volume to the lips or under the eyes, may make an excellent candidate for Restylane injections. Both men and women, of any skin type, can get satisfactory results with this injectable filler.