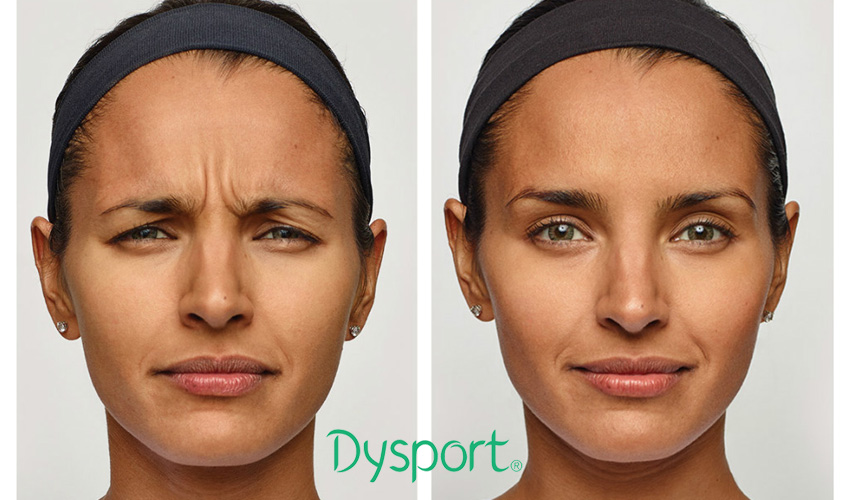 What is Dysport?
Wrinkles aren't your style and the "frozen look" isn't either. For adults who want a natural look, there's Dysport, a prescription injection proven to help smooth the appearance of moderate to severe frown lines between the eyebrows without changing the look or movement of the rest of your face. Untreated muscles still work normally, so you can continue to express feelings naturally. It's the lines that are minimized, not your expressions.
And because Dysport delivers the natural-looking results people want, 97% of users say they'd do it again. Additionally, Dysport is approved in 69 countries and has 25 years of clinical experience worldwide. Find out more about Dysport below, including how it works and what you need to know before starting treatment.
How does Dysport work?
Dysport treats moderate to severe frown lines between the eyebrows by reducing specific muscle activity. Wrinkles are caused by repeated movements and muscle contractions, which means they can even develop in younger adults. One injection into each of 5 points between and above the eyebrows temporarily prevents muscle contractions that cause frown lines, leaving the rest of your face to move naturally. In other words, no frozen look, just natural-looking results. You can control your look instead of your look controlling you.
How long does Dysport last?
Forget frown lines between the eyebrows for up to 4 months! You've got better things to do than think about what your frown lines look like. The majority of users‖ see improvement in just 2–3 days after treatment. In just one 10 to 20-minute treatment, Dysport may help improve the look of your frown lines between the eyebrows for up to 4 months. Results of repeat treatments may be comparable to your first use. Another plus? There is minimal downtime after your treatment, which means you can get back to your day faster.
Botox
A simple, non-surgical treatment to temporarily reduce or eliminate frown lines, forehead creases, crows feet near the eyes and thick bands in the neck. These purified proteins block the nerve impulse to the muscle that cause wrinkles to form while giving the skin a smoother, more refreshed appearance.
Botox Benefits?
Botox injections are noted primarily for the ability to reduce the appearance of facial wrinkles. They're also used to treat conditions such as neck spasms, excessive sweating (hyperhidrosis), an overactive bladder and lazy eye. Botox injections may also help prevent chronic migraines.
There is no downtime required after a Botox treatment. Initially, patients may experience mild swelling and redness, although these will resolve quickly. Bruising at the injection site is not unusual. This can take up to a week to fade. Results from a Botox treatment will be immediately evident; these can last from six to nine months, or longer. After this time, patients will need to schedule a repeat treatment.
Since Botox works by relaxing facial muscles, full results are generally seen within five to seven days. You'll see deep dynamic wrinkles gradually improve over time, in addition to the early effects seen shortly after treatment. Your results will continue to improve, until about two weeks after the procedure. At that time, you'll be looking your best. The effects of Botox will gradually wear off over the next four to six months, and the wrinkles will need to be retreated.